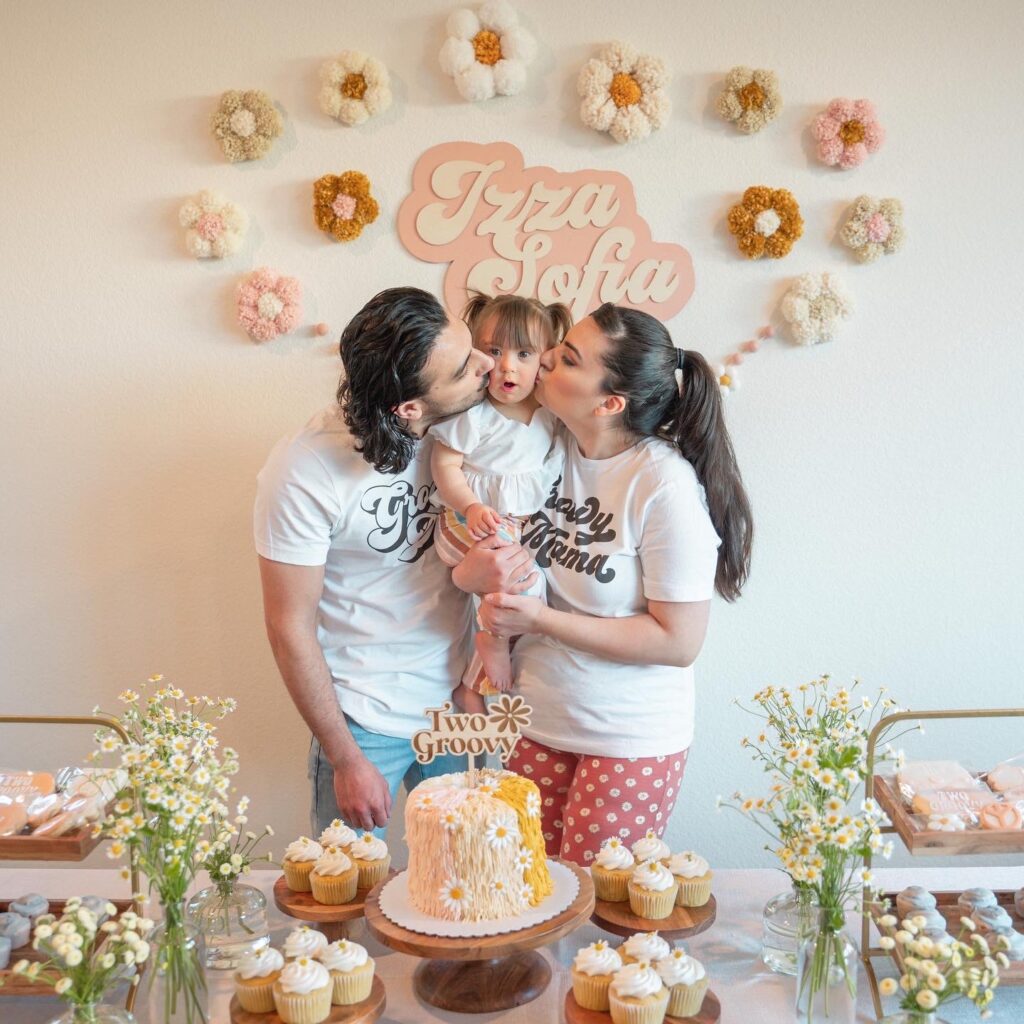 We celebrated Izza's second birthday with the cutest theme – TWO GROOVY! There were daisies, peace signs, a mini coupe car, boho decor, and a beautiful color palette that I got to work with!
Sekander and I decided to wear matching shirts that read "Groovy Dad" and "Groovy Mama" both created for us by a cute Etsy shop called StarkAmbition.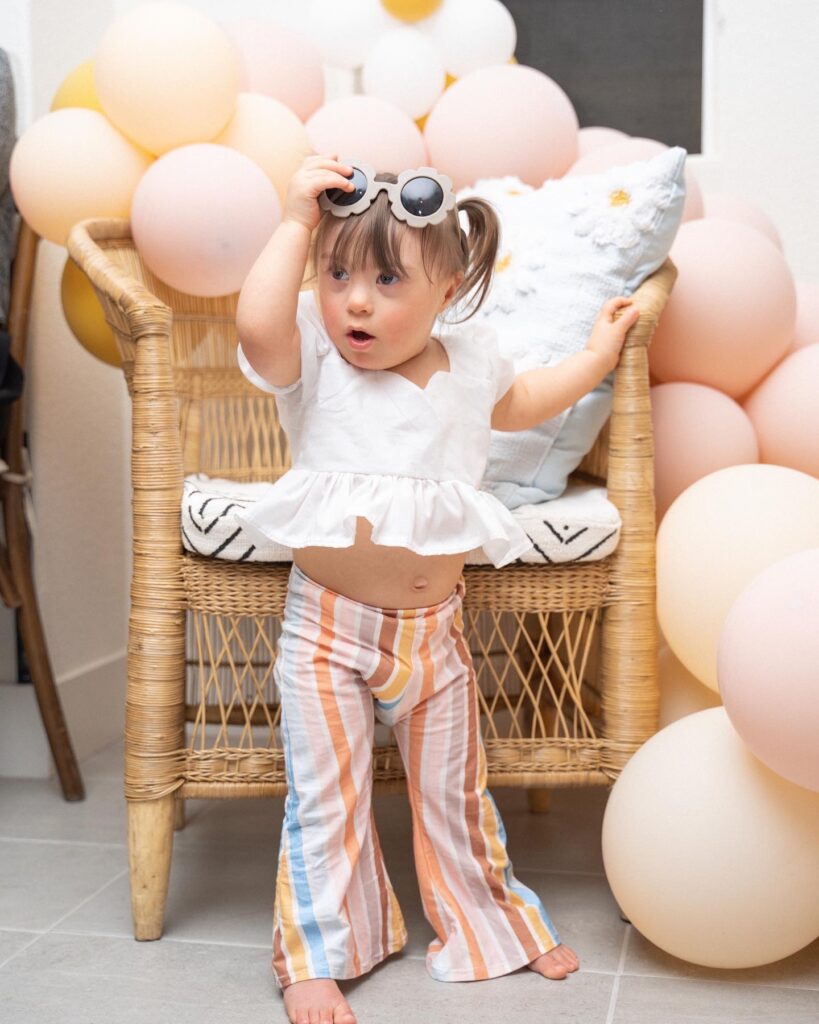 Izza's groovy outfit was the actual inspiration for the color palette. It was the first thing I chose because I knew I wanted hints of her outfit to be in the decor, and it worked out so perfectly.
Short story, I actually checked out with the wrong pants even though I had these in mind. I don't know why or how I messed up?! But thankfully, I caught it right before they were going to ship out her outfit and they were so happy to fix my mistake. Izza's cute outfit is from an online shop called @sugarplumlanebaby.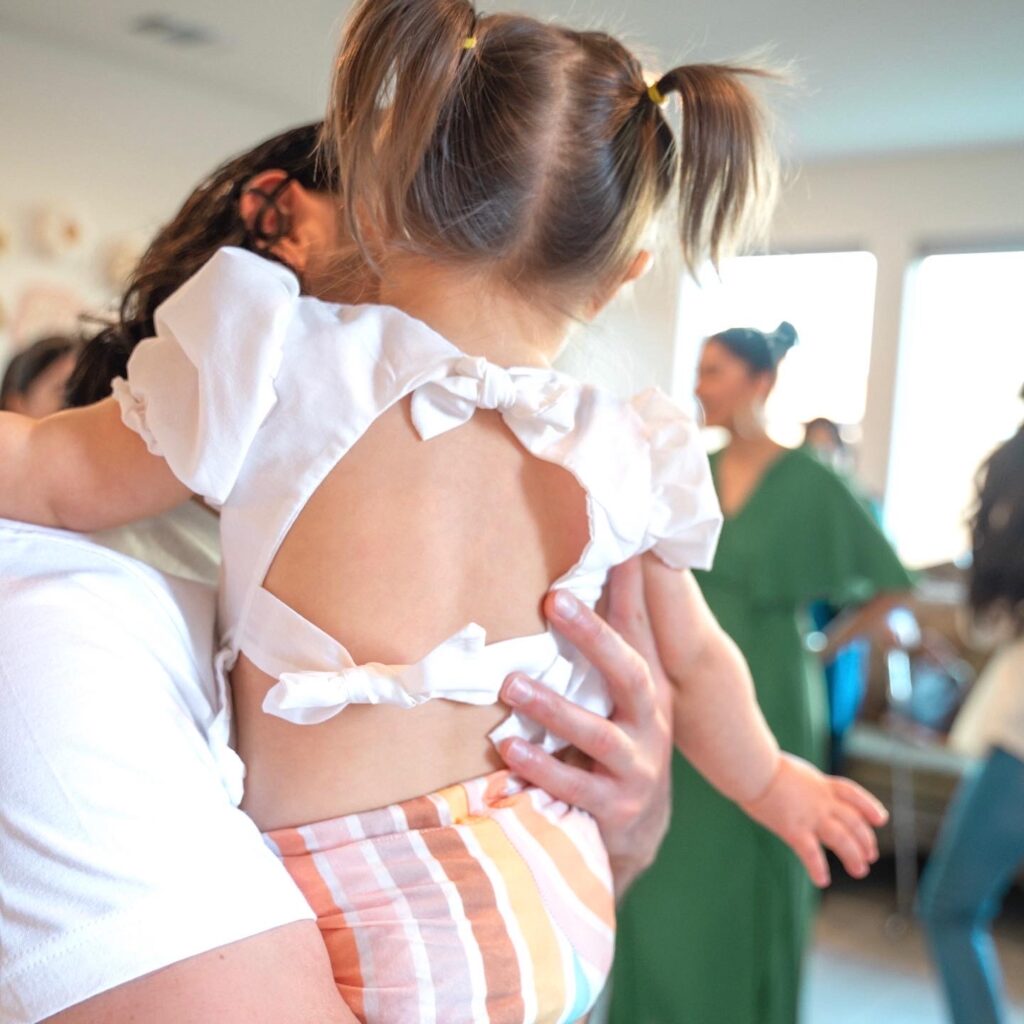 AND how freakin cute is the back?!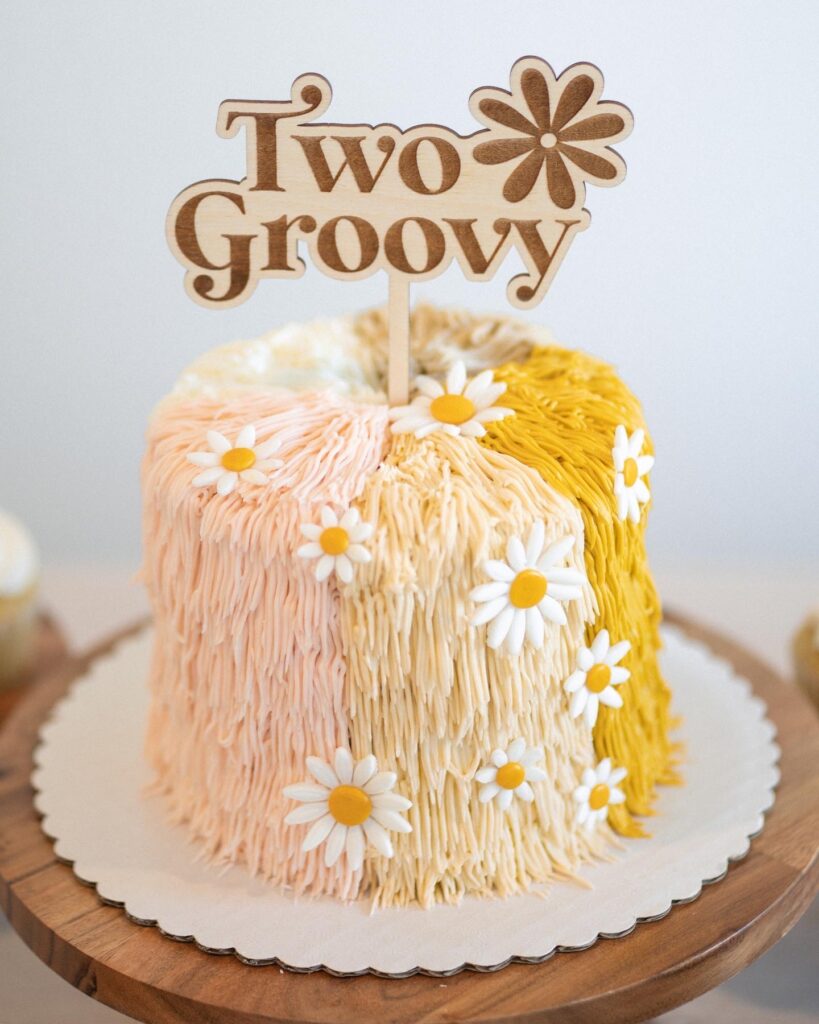 THE gorgeous CAKE! For cakes, I always save an inspo pic from either Pinterest or Instagram along with exact color palette, so that I can later show the baker. This has always helped me and the baker to stay on the same page and understand the vision better. Thankfully, every time I do this… the cake turns out way better than the inspo pic. My husband went in to pick-up the cake and I gave him clear instructions on how it should look like and to Factime before leaving lol yeah I'm one of those customers! The funny thing is I was so busy setting up that day that I completely forgot to check in with him and so I call him and ask him why he didn't FaceTime me? And he says, "Don't worry it's more than perfect, I know you'll love it." And that's all I needed to hear to calm my nerves haha. Thank you to @luvsweetarts bakery for creating this perfection! Cake topper by Etsy shop ArrowTownDesigns.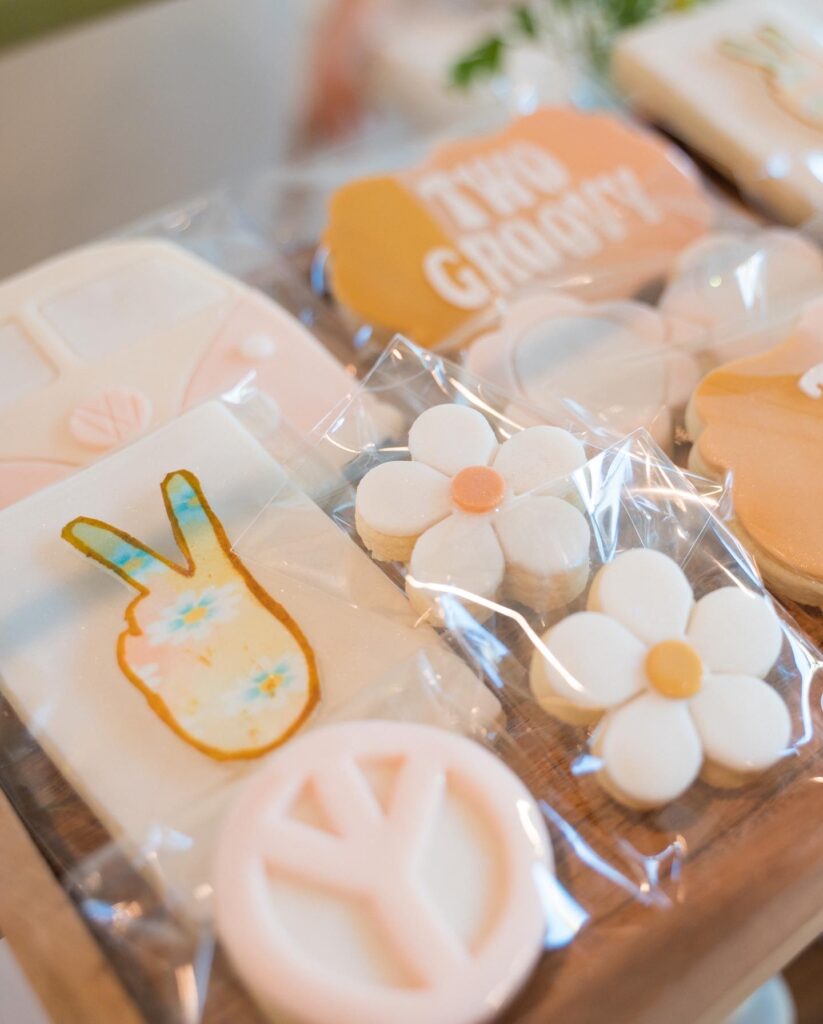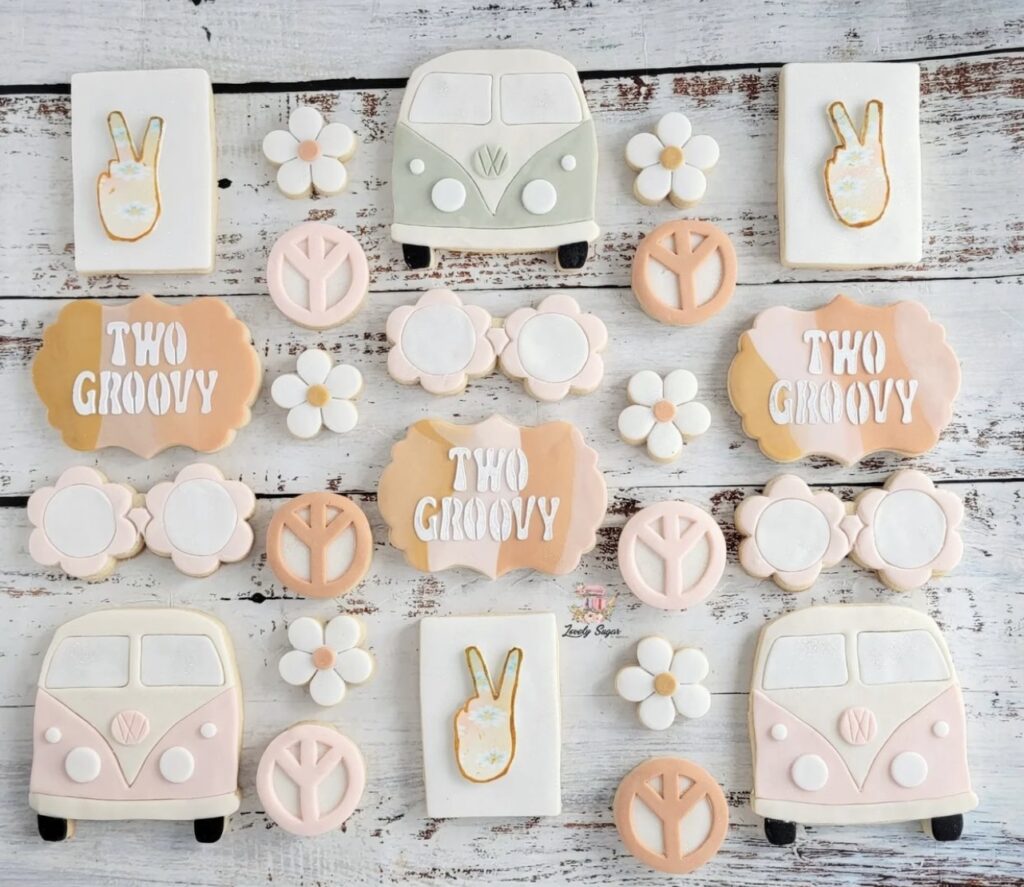 Every birthday needs cookies!!! I was recommended @lovelysugar_bykhadija by my aunt who recently had her daughter's birthday and had an amazing experience with her. When I first reached out to her I think I sent her a completely different color theme for the cookies and then ended up changing it twice. Each time I had to make a change with a cookie design or color she was sooo patient and friendly about it! She made me feel so comfortable to be able to express exactly what I like about a certain design and what I don't like. And when she finally sent me a video of the end result, I was so happy with the turn out!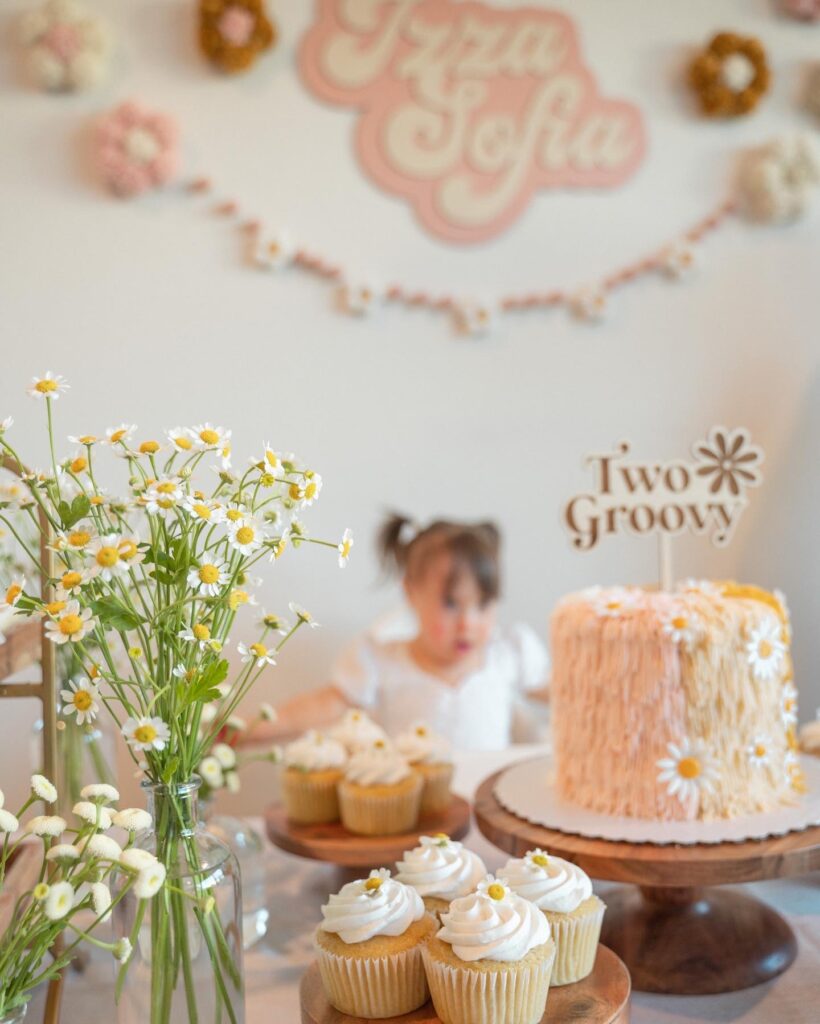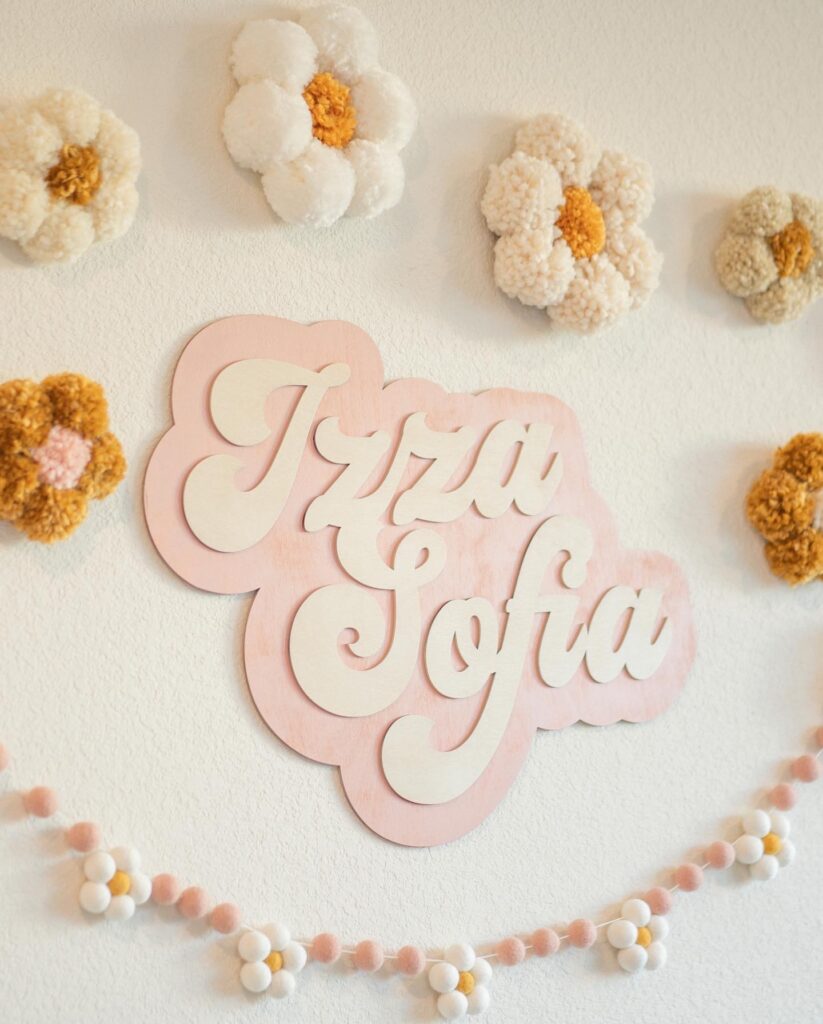 Izza's super cute custom wooden name sign was created by @happy.crafted. She did such a wonderful job in creating this sign and she got it to us within 3 days! I explained to her what the theme was and then left the rest up to her and I am so glad I did because she made it so beautiful.
I ordered 10 handmade pom pom daisies from @moonchild.creations_ who made it exactly how I wanted them. She was so kind to show me each color combination before creating them. I had these made with the vision in mind to use around her sign, but then I ended up making two more larger sizes to complete the look. I was grateful to receive these way in advance, so I had time to play around with it and realized I needed two more. So, my mom and I ended up going to a local Michaels store to grab some yarn, the pom pom maker set, and wooden dowels (I explain this part below).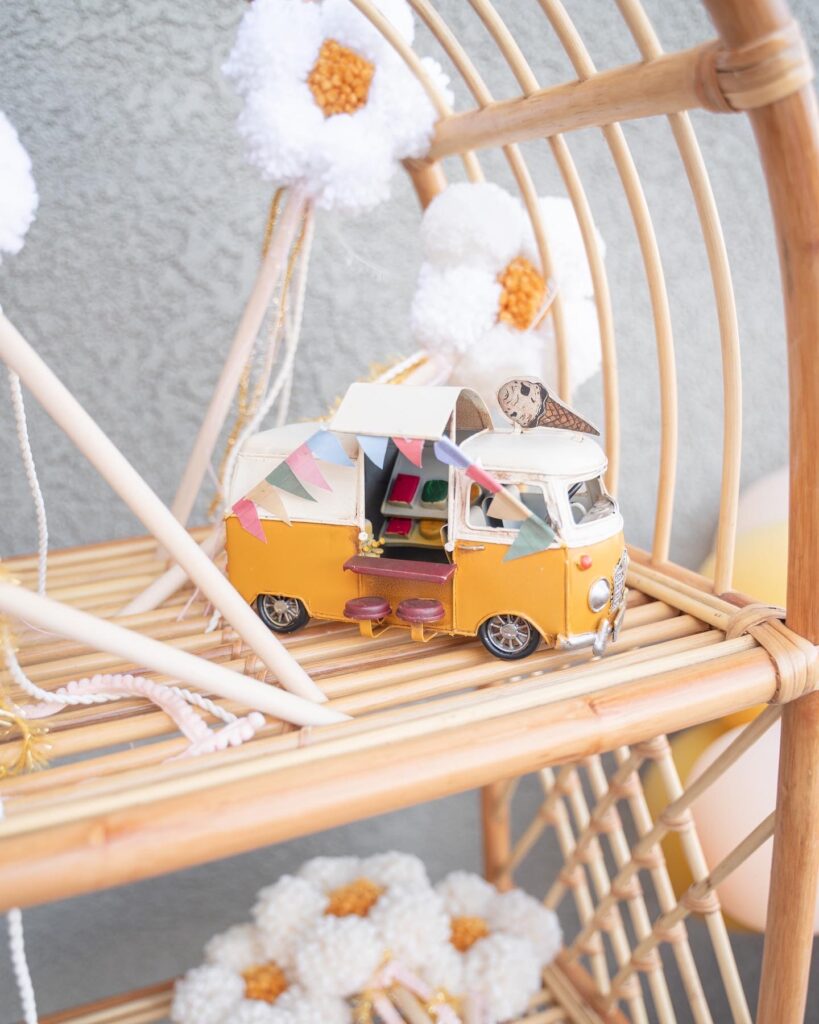 This is why we needed the wooden dowels! I saw some photos of daisy wands and thought how cute would it be to create some as groovy favors. My mom and I were already making two larger size pom pom daisy for the wall decor so we ended up making some more to create daisy wands, and they turned out to be everyone's favorite favor at the party!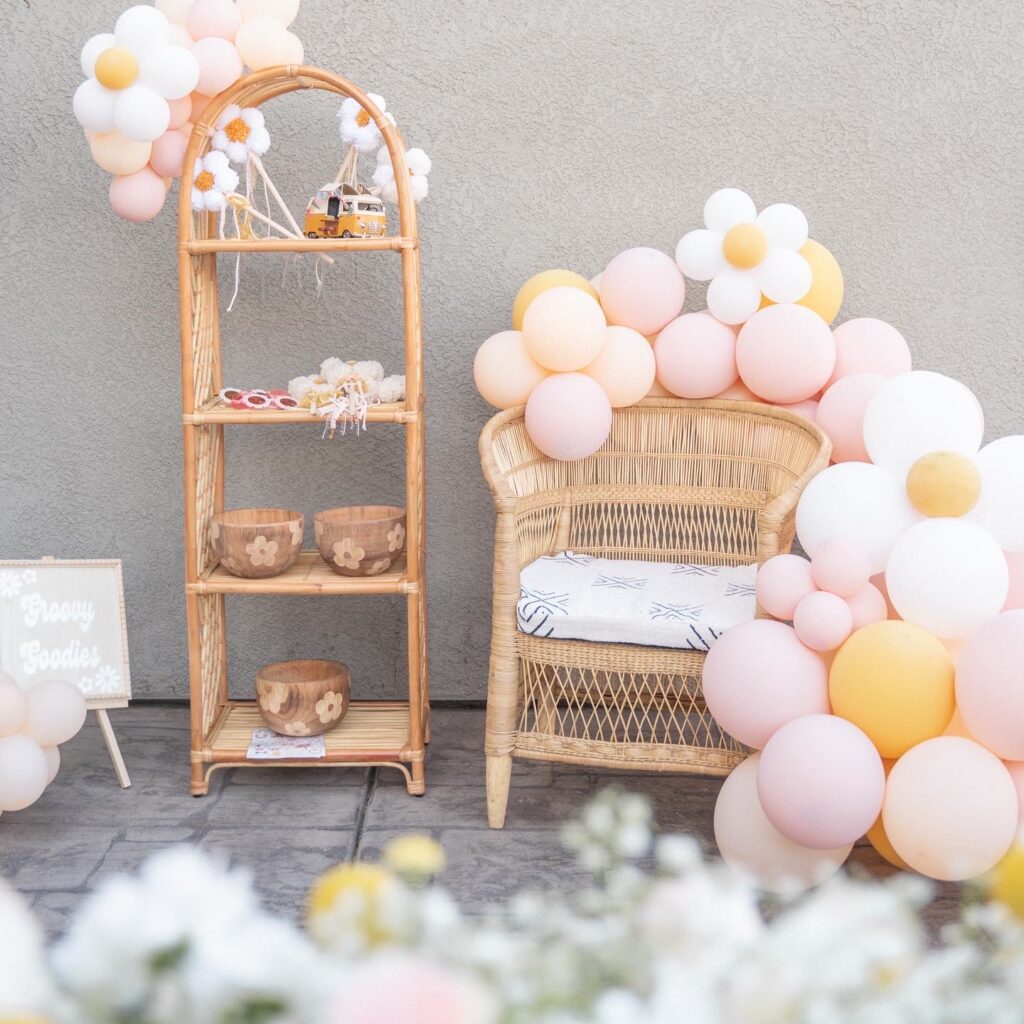 Both rattan furniture pieces are from a local HomeGoods as well as the cute wooden daisy bowls. The pretty balloons were by @tubiidecor, she went above and beyond my expectations. I did sent her an inspo pic as well and she made sure the colors were exactly how I envisioned it! Thankful that I got to meet such an amazing and good hearted balloon vendor! Thank you soooo much @tubiidecor!!!
I picked out the wooden sign and easel for the groovy goodies sign from our Micheals trip and had a local vendor make the signage for us to stick on the sign.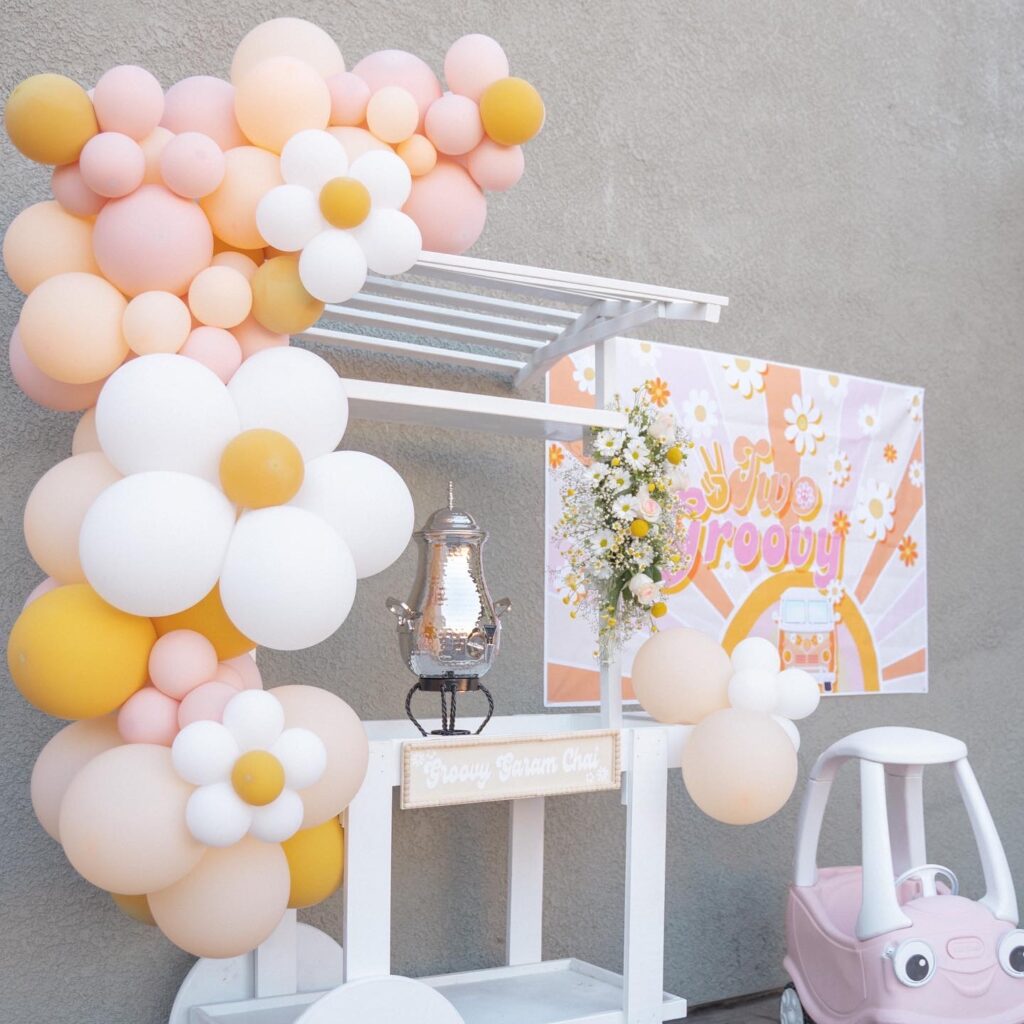 Chai cart and balloons by @tubiidecor. Cultural chai made by my amazing mother-in-law. Little tikes car painted by my dad and Sekander to match Izza's birthday party.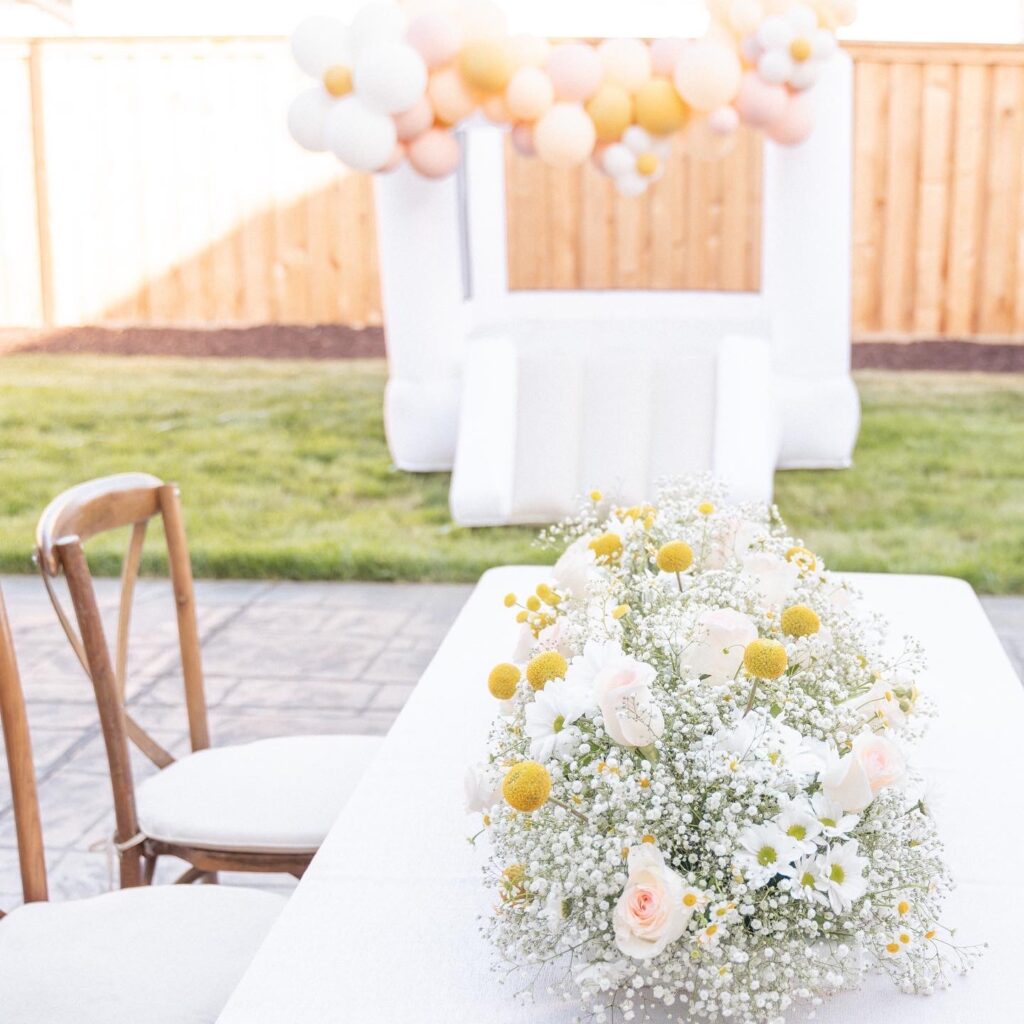 Fresh flowers created by my talented mother. Purchased the florals from a local wholesaler and Safeway then had them arranged together by my mom.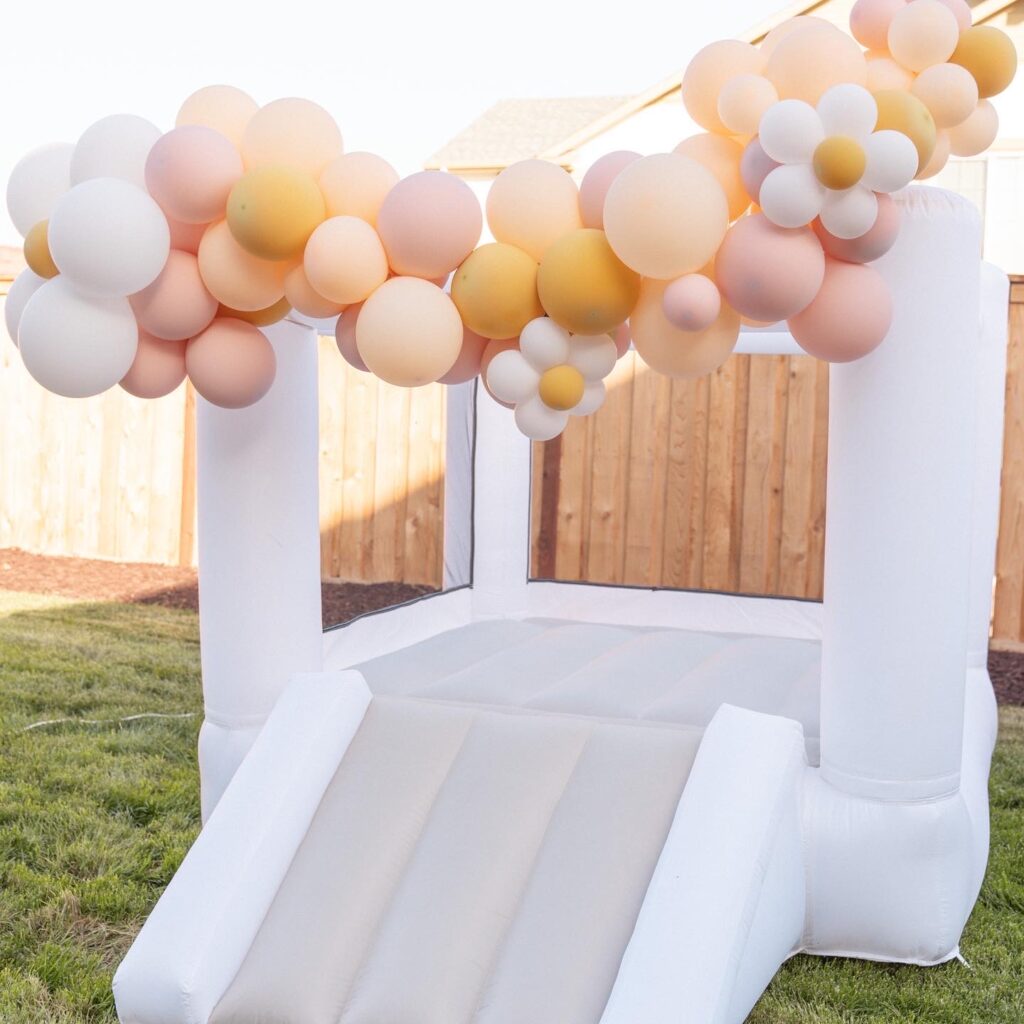 The cutest party for my groovy girl! I am still wondering how time flew by so fast that I already have a two year old! Thank you to all the amazing vendors for making this party super adorable! And a big thank you to my family and Sekander's family for helping out with everything and making the party so enjoyable.
Please leave comments or questions below.